Production program of STIKAN PE-HD pipes for street sewerage
The pipes meet the requirements of STS-06/046, according to which the pipes for street sewerage are made.
The wall of the pipe consists of a profiled outer layer and a flat inner layer, which are welded between the ribs and form a homogeneous wall. The outer profiled layer greatly improves the mechanical properties of the pipe, and significantly increases the stiffness of the pipe in the radial direction. The flat and smooth inner side, in addition to additional safety, also enables ideal hydraulic properties and thus large unobstructed flows.
Color: 
The color of STIKAN pipes and fittings is black.
Pipe circumferential stiffness:
SN >= 4 kN/m2 (EN ISO 9969) or 
Sr24 >= 31,5 kN/m2 (DIN 16961) 
Pipe circumferential stiffness:
SN >= 8 kN/m2 (EN ISO 9969) or 
Sr24 >= 63,0 kN/m2 (DIN 16961)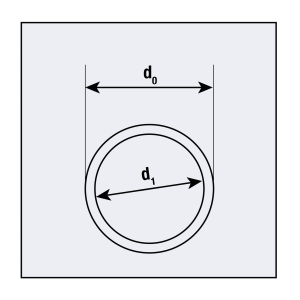 | Nominal diameter DN (mm) | Outer diameter d (mm) | Inner diameter d (mm) |
| --- | --- | --- |
| 160 | 160 | 136 |
| 200 | 200 | 176 |
| 250 | 250 | 218 |
| 300 * | 350 | 300 |
| 315 | 315 | 272 |
| 400 | 400 | 347 |
| 500 | 500 | 433 |
| 630 | 630 | 535 |
| 800 | 800 | 678 |
| 1000 | 1000 | 852 |
| 1200 | 1200 | 1030 |